Santa Claus at Castello di Lunghezza in Rome
If you're visiting Rome this holiday season with your children and are looking for a fun Christmas-themed activity to enjoy, head to Castello di Lunghezza in the city, which has been turned into a replica of Santa's imagined house!
Castello di Lunghezza is a historic manor that is known for its enchanting architecture, but the atmosphere this holiday season is particularly magical with the arrival of Santa's House, which is open Fridays, Saturdays and Sundays from 11th November until 26th December.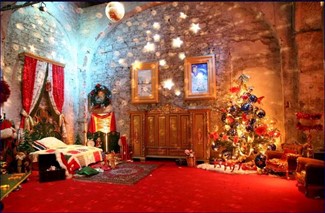 Attractions in Santa's House at the castle, include:
A snow fairy in a magical white dress
Santa's sleigh
A toy factory and Santa's Elves
A post office, where children can write a letter and deliver it to Santa Claus
Santa's room
Santa Claus in the Throne Room - a splendid reconstruction of Santa's abode!
The private quarters of Santa Claus and his elves
There is also an enjoyable entertainment park, with activities for children of a range of ages, including:
The Pavilion of Letters, where children can write letters to Santa Claus and interact with playful elves
The House of the Elves
Santa Claus' Winter Garden
The Wonderland Stage
A fun dance area
Santa's House at Castello di Lunghezza is sure to be a very popular attraction for families visiting Rome and a wonderful way to treat the children this holiday season. If you're visiting Rome over Christmas, don't miss out!
Opening times
The Grotto will be open Fridays, Saturdays and Sundays from 11th November until 22nd December, and will be open daily between 23rd and 26th December. The house opens at 9 am and last entrance is at 6 pm (5 pm on Fridays). We recommend that you allow at least 30 minutes for queuing as the event is likely to be popular.
Tickets & further information
This is a ticketed event and so you must buy a ticket and reserve a visiting time before attending the event. Tickets are available online: http://booking.lacasadibabbonatale.it/WB/s/index.asp. For more information, please visit: www.lacasadibabbonatale.it/biglietti-orari-roma.aspx.
Search Keywords
Enter keywords below to perform a search within the events to find more relevant posts