A healthy food that children will love
Italy is well known for its fresh produce and, in particular, its sun-ripened tomatoes, which have a juicy sweetness that we're sure even the fussiest of children will love!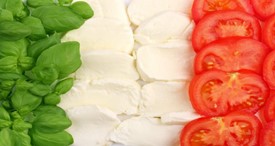 One of our favourite types of Italian tomato is the Pomodoro Fiorentino (pomodoro is Italian for tomato), which is native to the Florentine plains outside the Renaissance city of Florence. It is small in size by Italian standards, weighing around 150 to 160 g, and has an intensive red flavor thanks to its high levels of antioxidants. Taste-wise, it is particularly versatile, being neither too sweet or acidic – a characteristic that makes it suitable for both fresh salads and crushed into a sauce.
However, one of our favourite things about this type of Italian tomato is that its production and harvest is protected by the Legnaia Cooperative, which means that you can rely on the quality of this species. So, if you are enjoying a self-catering family holiday in Tuscany, we highly recommend seeking out the Pomodoro Fiorentino to make your own pasta sauce, slice on to pizza or dice into an Italian salad.
Search Keywords
Enter keywords below to perform a search within the events to find more relevant posts