Italy's vintage trains: A great day out for families
Railway tourism in Italy has boomed in recent years and nine historical lines have reopened to the public.
Between 2016 and 2017, 130,000 guests travelled on an Italy vintage train to enjoy a journey back in time along one of the recently opened historic routes. This is an increase of 45% compared to the previous years, showing that railway tourism in Italy is booming!
About Italy's Vintage Trains
Many Italian regions offer routes with vintage trains and it was recently announced that Fondazione FS – a specialist company offering historic train journeys in Italy – will invest €80 million in vintage train infrastructure, including the opening of new lines and also the regeneration of vintage toll booths.
In fact, in just the last three years, nine historic railway lines have been reopened to the public, covering almost 600 km of tracks. These include:
Lombardy

Abruzzo

Molise

Sicily

Piedmont

Campania and

Friuli Venezia Giulia.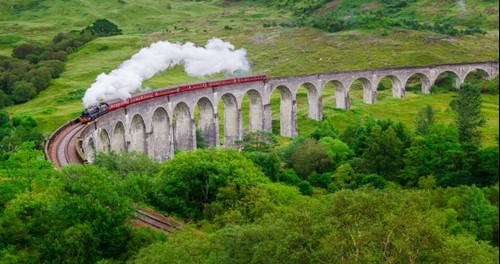 Italy's Vintage Trains to Enjoy on a Family Holiday
With railway tourism booming, you may be wondering which are the best Italy vintage trains to enjoy on a family holiday. Here are some of our favourites.
South Italy Vintage Trains
If you're visiting South Italy on your family holiday, there are plenty of vintage train options to enjoy. Here are some of the best:
"Pietrarsa Express" vintage railway line:

This historic route takes you from central Naples to the National Museum of Pietrarsa, which celebrates steam trains and vintage rail travel, making it a wonderful trip for families.

"Archeotreno Campania":

This Italy vintage train takes you on a journey back in time from central Naples to the lost city of Pompeii (one of the world's most important archaeological sites) and Paestum.

Almond blossom vintage train route:

If you're visiting Sicily on your family holiday, we recommend enjoying a ride on the historic train from Palermo to Agrigento (where you'll find the UNESCO-protected Valley of the Temples). It's a wonderful experience for families interested in Greek history.
Central Italy Vintage Trains
If you're holidaying in central Italy near Rome, we think you'll love this historic train journey:
Sulmona to Castel di Sangro (Abruzzo):

This Italy vintage train route takes you along the tracks of "Trans-Siberian" Italy, featuring beautiful countryside scenery. It stops in Palena and Castel di Sangro, where you can visit the Patiniana Art Gallery and the Aufidenate Civic Museum.
North Italy Vintage Trains
If your Italy family holiday is taking you to North Italy, then we think you'll love this vintage rail route:
Milan steam train:

For a cultural family day out, take the historic train from Milan to Alessandria – a citadel that features a Telecommunications Museum.
Want to Enjoy a Vintage Train Ride on an Italy Family Holiday?
If you love the idea of treating your family to a day out on a vintage train on a tailor-made Italy family holiday, then get in touch with one of our travel experts. We specialise in family holidays to Italy and create customised packages around the wants and needs of our customers. As a part of your personalised Italy family holiday, we can arrange all aspects of your vacation, including tickets aboard a vintage train.
To find out more about our award-winning holidays, please call us on 01223 637331 or click here to send an online enquiry – we typically respond within 24 hours.
Search Keywords
Enter keywords below to perform a search within the events to find more relevant posts