Chocolate Museum Factory in Rome
Between 18th November 2017 and 18th February 2018 the School of Chocolate Educational Entertainment, known as the "Chocolate Factory Museum", comes to the Fiera di Roma for an event of Rome family fun. The Chocolate Factory Museum arrives in Italy following a partnership agreement between Fiera Roma in Rome and Helexpo, a leading exhibition organiser from Greece.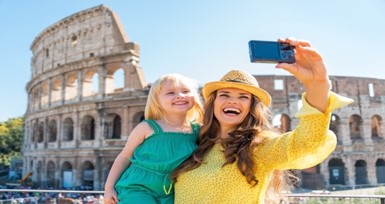 Previously, Helexpo has found success with events in Thessaloniki and Athens, attracting over 800 thousand visitors. This time, the exhibition organiser aims to do better, starting with the capital of Italy. Together, Fiera Roma and Helexpo aim to produce a one-of-a-kind Rome family fun event.
The family-friendly Chocolate Factory Museum is a unique theme park event at an international level. The Rome family fun theme park event is full of attractions to see with an incredible range of chocolate in all its forms. From a chocolate library to a chocolate jungle, there are numerous unique chocolate themed attractions to admire.
One of the attractions of this Rome family fun event is a special reconstruction of the ancient Incan temples. At these Incan temples visitors can experience the warmth and humidity of the Amazon and receive real cocoa beans as part of this Rome family experience.
Adding to this compelling experience is an exhibit of musical instruments made of chocolate. This delicious-looking exhibit features eleven musical instruments recreated in chocolate, including trumpets, guitars, drums and xylophones. One of the highlights of the exhibition is the largest chocolate waterfall in Europe! Towering over visitors, this chocolate waterfall has 1200 litres of liquid chocolate and is certainly a key attraction of this Rome family fun event.
Furthermore, the Chocolate Factory Museum also includes laboratories where you and your family can learn about chocolate-processing techniques. From chocolate tasting to preparing chocolate delicacies, you're certain to have a fun and educational experience.
The Rome family fun doesn't end there either, as chocolate and cookie labs are also available for children and adults to discover the secrets of chocolate tasting. Capping of this rich event is a reproduction of the country of Italy, complete with chocolate miniatures of famous landmarks and monuments.
If you're interested in experiencing this chocolate wonderland with your family, get in touch with our experts for more details. You can reach us via our online contact form or call us directly on 01223 637331.
Search Keywords
Enter keywords below to perform a search within the events to find more relevant posts