Tactile museums in Milan and more (accessible family art & culture)
Going to the museum can be an educational experience for everyone involved, that's why Milan has introduced a new type of museum: tactile museums.
Tactile museums aim to bring culture and learning to all with no barrier for entry. By enhancing accessibility with a range of exhibits and facilities, all visitors can appreciate the works of art and the numerous installations.
These new tactile museums break down architectural barriers, along with perceptive sensory ones, with the introduction of captions, illuminations, descriptions, guided audio paths and ad hoc warnings to those with sensory impairments.
Fortunately, there are many museums that are accessible to those enjoying a family tour of Italy. In Milan in particular, there are several tactile museums that can be enjoyed by all visitors.
At The Insitute for Blind People in Milan, it is possible to visit the Louise Braille Museum, which features writing and reading systems for the blind and shows you the development of these important systems through instruments, machines, books and other materials.
You and your family can also experience the Galleries of Italy in Milan, which are equipped with spaces and cultural programs accessible to all, as well as the Museo del Duomo and the Gallery of Modern Art.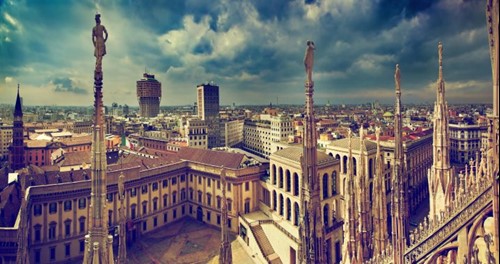 Tactile museums can also be found in the Italian city of Varese, which is also in Lombardy and not far from Milan. In the Varese tactile museum, family visitors are encouraged to touch all exhibits with their hands. For those with visual impairments, this allows them to recognise objects via touch.
North-east of Milan, the city of Bergamo has also incorporated tactile museums for family visitors. At the Museo Civico Scienze Naturali "Enrico Caffi" there are tactile displays that are part of the Museo daTouch project. There is also a special route in braille that is intended for people who are visually impaired.
Another Lombardy city that has begun developing family-friendly tactile museums is Cremona. The Archaeological Museum in Cremona has made a path, in collaboration with the Superintendence for Archaeological Heritage and with the Institute of the Blind in Milan, with 3D reproductions of the objects displayed in the museum.
One of Cremona's most famous museums, and a top recommendation for your Italy family holiday, is the Stradivarian Museum, which is also accessible to blind or partially sighted people.
Get in touch
For a customised Italy family package holiday that includes tickets to a tactile museum, get in touch with our Italy experts today. We specialise in custom-made holidays to Italy and can create a dream vacation that suits your family's needs and requirements. Contact us via our online form today or call us at (UK) 01223 637331or (US) 347-594-5500.
Search Keywords
Enter keywords below to perform a search within the events to find more relevant posts