Travelling to Italy with children
Thanks to its wealth of attractions and friendly culture, Italy is a wonderful destination for a family holiday in 2018.
From the Gladiators of Ancient Rome to the fun characters at the Gardaland theme park, Italy has plenty to capture the imagination of children of all ages. With such diversity on offer, it is no surprise that Italy is one of Europe's most popular destinations for a family holiday.
If you're travelling to Italy with children in 2018 and are looking for tips for a smooth and relaxing trip, here are some of our top tips, including holiday recommendations and travel-planning advice.
Recommended Italy Family Holidays
Italy has plenty of destinations for a memorable family holiday. If you want to make the most of your time, and ensure the little ones are always entertained with new sights and attractions, we recommend choosing an Italy multi-centre holiday. This type of holiday allows you to visit more than one destination in Italy on a single trip, saving you money on air fares.
If you like the idea of this, here are some of our favourite Italy family holidays to more than one destination.
Rome and Pisa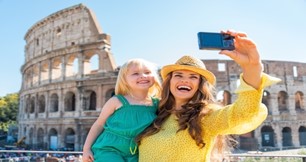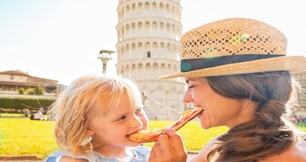 This is a great family holiday if you have never visited Italy before as it allows you to see two of the country's most iconic sights: the Colosseum in Rome and the Leaning Tower in Pisa.
We're sure that Rome will capture your family's imagination and there are plenty of family-friendly activities to enjoy, such as mock Gladiator battles and Ancient Roman banquets. If you plan on visiting the Colosseum, we recommend pre-booking entry tickets or a guided tour to get the best price.
You can easily travel from Rome to Pisa with your family – simply take the high-speed train from Rome Termini to Pisa Centrale. You can then treat your children to a wonderful time exploring the quirky Leaning Tower, which sits at the heart of Pisa's Piazza dei Miracoli. There's just one thing to note: children under 8 are not permitted inside the Tower and children under age 18 must be accompanied by an adult.
Venice and Lake Garda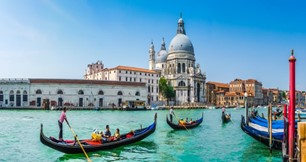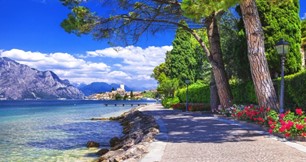 The combination of Venice and Lake Garda is a great option if you have older children. Teenagers will certainly love Venice's magical atmosphere and floating palaces, and there are plenty of trendy bars and cafes to enjoy. For a memorable experience, we recommend pre-booking a private gondola tour of the Grand Canal – you can even arrange for your gondolier to serenade your family during the trip!
This Italy family holiday ends in the tranquil resort of Lake Garda. We recommend staying in Sirmione or Desenzano del Garda as these lake-side villages have the best restaurants, bars and shops. There are also plenty of sports that you can enjoy during your family holiday to Lake Garda, such as hiking and sailing, and there are also safe lake-side cycling trails to explore (more hotels hire bicycles to guests). For an exhilarating day trip, take your family to the Gardaland theme park, which features rollercoasters, rides and games to suit a range of ages.
Rome and Paris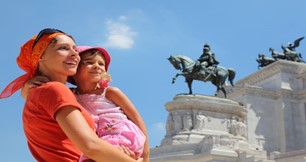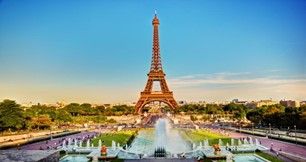 For a special Europe family holiday, combine Rome and Paris. This is a particularly great choice if you have younger children as, in Paris, you can treat them to an experience at Disneyland Paris.
Travelling between the cities is not too hard as there are plenty of low-cost flights available from Rome Fiumicino to Paris' Charles de Gaulle Airport. However, we do recommend pre-arranging airport taxis to avoid stress.
Things to Think About When Planning Your Italy Family Holiday

When planning a family holiday, there are plenty of things to think about, including the best accommodation for your family and extra expenses, such as car transfers and meals out. For a stress-free experience, we recommend booking your Italy family holiday through an expert tour operator, who will be able to manage and arrange all your travel plans. However, if you would prefer a DIY holiday, be sure to consider the following.
Budget
We recommend setting a budget for your Italy family holiday as a first step in planning your vacation. You can use a simple spreadsheet to keep track of your spending. Be sure to set some money aside for extra expenses during the holiday, such as meals out, taxis and activities.
Family-friendly hotels
For the best experience, select a family-friendly hotel. Not only will you and your family have the opportunity to meet other families enjoying Italy, but these hotels also tend to have extra facilities for children, such as play areas, children's swimming pools and child-care. They may also offer family suite rooms or connecting rooms, so that you have the space to relax on your family vacation.
Airport transfers
To avoid stress as soon as you arrive on your Italy family holiday, we recommend pre-arranging an airport taxi or, for a low-cost option, buy tickets for the airport shuttle bus. Terravision is a reputable company offering shuttle bus transfers for the major European cities that we recommend.
Some airports, such as Rome Fiumicino and Pisa International, also have a high-speed train connecting the airport with the city centre, with very reasonable fares and quick transfer times.
Activities
Italy has plenty to entertain you on your family holiday, including theme parks and a wealth of educational events. We recommend making a brief plan of the activities you want to enjoy on your family holiday to make the most of your time. Just be sure to pre-book tickets to the major attractions – they tend to sell out during peak season, especially the Colosseum in Rome, Doge's Palace in Venice and Pisa's Leaning Tower.
For general sightseeing, we recommend booking Citysightseeing bus tour tickets. You can buy a family ticket that is valid for 24 or 48 hours for a very reasonable price and the buses stop at all the major tourist attractions in Italy's top cities. They also have an audio-guide so you can learn more about your holiday destination.
Flying with Children

Fares
Most airlines offer discounts for child air fares and some even allow infants under the age of 2 to travel for free, provided they sit on your lap.
Check the airline's terms and conditions to be sure to get the best price and to note any restrictions regarding baggage allowance.
Entertainment
If you're travelling with young children, think about how you can entertain them during the flight. Most flights between the UK and other cities in Europe do not offer on-board entertainment, such as TV screens. However, you can operate a lot of tablets and laptops nowadays in airport mode. Why not download a film for the children to watch during the flight or take along colouring books?
Let Us Take the Stress Out of Your Italy Family Holiday
We are experts in customised Italy family holidays and, as a part of our travel service, we can arrange all aspects of your holiday so that you have nothing to worry about. We can arrange:
Return flights from your choice of airport
Private airport transfers (or a shuttle bus transfer if that suits your budget)
Accommodation (including self-catering apartments and villas)
High-speed train tickets between cities in Italy
Car hire
Restaurant reservations
Day trips
Tickets to the top attractions
To find out more about our Italy family holidays, please contact us. You can also browse our selection of family holidays by clicking here.
Search Keywords
Enter keywords below to perform a search within the events to find more relevant posts